Rufines Speech @CMMA 2021
Creating our own space is what counts the most and it is what this all is about. But why am I saying this? Let me go back to where it all started.
I came to Germany in march 2012 and started studying at the university of Bayreuth one year later. Sometimes we used to get together with other international students. As an international student, you mostly hang out with other international students because of the special programms organised for you at the university or the language classes. So in those evenings, there is always the question of where do you come, how long have you been in Germany. I remember when someone said for example that they had been in Germany since 6 years, then all the others would agree "ooh you, you are a German already", and the person would quickly correct it so "noo I'm not German". Back in the days, I used to think, these persons did not want to get assimilated to Germany as if it was bad to be a german. But I didn't think much more about it. Anyway for me, they were Germans. When I think about it now, I ask myself who is actually a German? Or after how many years can one become or let's say feel German? Anyway, at that time, I did not think about all this.
Some months ago, I met one guy originally from Togo who had just arrived in Freiburg and was living in the first arrival camp there. I met him at one of the events that we organise – by we I mean my group, our Voice the refugee editorial at radio Dreyeckland a free radio in Freiburg. We talked a lot and one of the things he asked me was how long I had been living in Germany. So I answered that I have been living here for more than nine years already and he said "ooh you, you are a german already" and I replied "no, I am not a german" , I even added "Not at all". I am sure this answer did not convince him. But me, it brought me to think deeper about it. I was asking myself, why do I or did the people back in my university years insist on the point that we are not Germans. Was it a "Hell no! No way! I am not a German!" and I don't want to be or is it a "No, I am not accepted, considered as a German.". This thing is deeper. And I think it is half of both. "Hell!" because we do not want to loose our first identity, and "No!" because we always get into situations where we are shown by others or told that we do not belong here. I mean, when you are looked down in an office, when you are the only one beeing controlled for example in a bus or at the trainstation, when you are asked what you need here at your work place or at your own home then you definitely get the feeling that you don't belong here and you own this feeling, you perpetuate it and you refuse to get assimilated to those who refuse you.
But we are here now and many of us are not going back, at least not now. But how to stay in a place where you are not accepted and do not feel welcome? One of the ways that we have found to still feel safe and at home is to create our own space. If you are not heard in the media, if you want to be heard, then create your own media. Or join those who already exist. This is what Larry did as he created Refugee Radio Network in 2014. It is what we did in Freiburg as we created Our Voice in 2017. At Our Voice, we produce a radio show every wednesday where refugees can tell their personal stories, share experiences, bring up topics which are not told in the mainstream media. Refugees are being trained as media makers because they do not have this opportunity in other structures where they will be first asked for C1 level in German, for a working permit which is not delivered automatically. At Our Voice, we decided that we need also a physical place, a room which we called the Zwischenraum which is meant as a safer space for refugees. It is a place where people come to have a rest, to get out of the boring live of a camp and also to develop ideas about specific projects. For example, it is in the Zwischenraum that one refugee woman came up with the idea of having an Afro filmclub which is a series of film screenings of films made/produced by african film makers. The project has started since 2019 and we have screened already in different cinemas in Freiburg. The next movie that we are going to screen is "Half of a yellow sun", the adaptation of the book by Chimamanda Adichie Ngozie. It's in the Zwischenraum that a refugee came up with the idea of the "Africa Day", one of our main events of the year. We celebrate it every 3rd october because we want to show that Africans and Black people are and have always been part of the German history.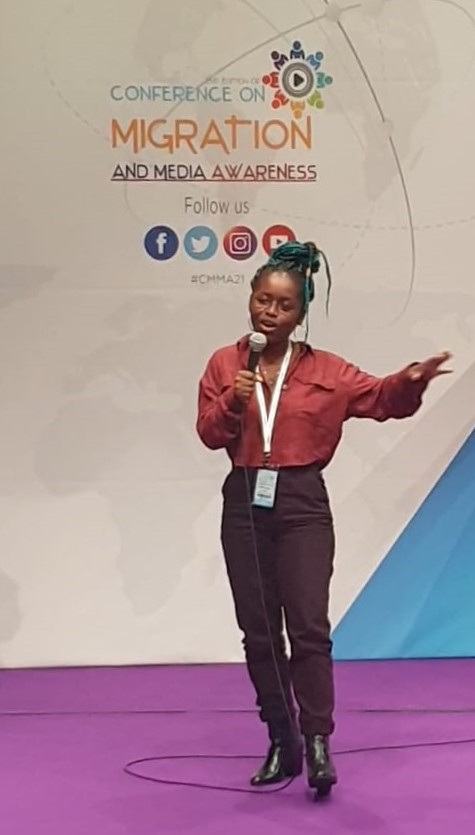 It is also in the Zwischenraum that we decided not to do this work alone. While 50 people will listen to our radio show and will be impacted positively, 50 000 other people will be listening to the racist show in the mainstream media. Those same racist shows which contribute a lot to the fact that we are not accepted, looked down in the street, being the only one controlled, asked in the work place and at our own homes what we need there. Our solution was to get connected to more of us, to empower each other, join forces, work together and have a bigger impact. This is how we created colourful voices. It is common podcast platform of refugee radios from all over Germany. It is also our online magazin which you can find on Instagram, and Telegram. We produce antiracist, intersectional, postmigrant content. We have built a network with so far 14 editorial groups in different cities of Germany. Our Network is called Netzwerk medien.vielfalt! and that is what I am representing today. I am talking for Our Voice in Freiburg, for Common Voices in Halle, Migrant mom's mic in Hessen, We are here we speak up in Kassel, Refugee Voices of Mannheim, Diversity Media, Immigration Broadcast in Nürnberg, Radio Connection in Berlin and much more. The network is still open for more transcultural and transnational content and project by migrantised people. So, feel free to join us on this journey and let us together create our own space in this society and make it more diverse and more open.
Thank you!